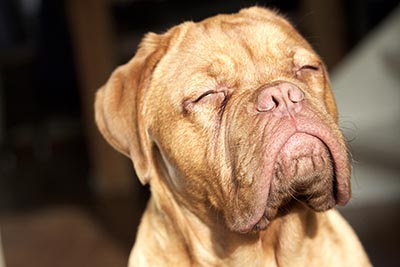 Today we have, as said before, 6 dogs at home, but apart from these we also have 2 , that not is living with us, they live at some friends place. When it comes to our breeding of Dogue de Bordeauxs, we try to preserve the old, french type. Our breeding are healthy individuals with a look typical to this breed, and a friendly mentality. We've given advice and had contact with our buyers of puppies since we started breeding. We have a close, good and nice contact with our buyers. We do not sell puppies just to anyone, we have high demands on them. The most important is that the puppy gets a good home. Also we publish a kennel-newspaper 3-4 times a year. An initiative that has proved itself to be much appreciated. There you can read about future activities, advice, results from shows, pictures and more. With pride we also can say that we were picked out when the Swedish Kennelclub wanted us to present the breed to over 40 judges, so that they could learn how to judge these dogs. This happened at the biggest dogshow in Sweden, Hund-97.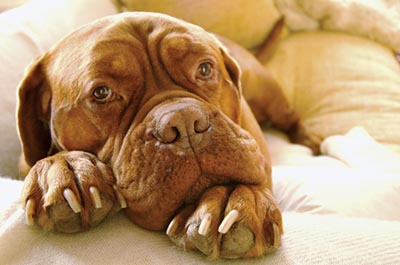 It´s has not been a easy way, we has always search for the finest bloodlines aswel in exteriors as in temper and health. We have loose meny hours of sleep, we have cruied and laugh, but the satisfaction of going on with our work, and the love and devoting for this breed, has bein stronger then all the obstacles we have meet on the way. The best we know is ... after has lookig for a good male for our female is to breed and look att the cuple how they invite to eachother to a mating and the mating infact , not to mention it the waiting time between the breed and the birth and ofcourse the really thing ..... the birht, is same thing unik every time, just wonderfull!! The worst we know is when people don´t wait the properly time between the breeding and mate their femails two or tree times in one year, it´s not fear for the female we think. When we breed our females, we allways keep in mine the individ in fact, if they are good mothers, has easy births, etc, It depends on this and meny other things if we take one or more litters of each female, but never more then three! Ofcourse, if the female has a very easy to birth, and she givs very good offsprings , we kan think it over and mayby take one last litter, that much we think we own to breed.
THIS SITE IS DEDICATED TO ALL THE PEOPLE WHO TRUST OUR WORK WITH THIS BREED!!!
We hope this will give You a small impression of our kennel. You are always welcome to visit us and our wonderful Bordeaux's. Just give us a phonecall and drop by.
Bordeauxregards
from Victoria & Sara Belburgo's Kennel